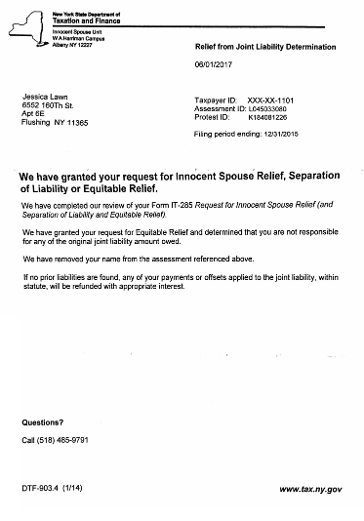 Jessica Lawn - a crash course on "Innocent Spouse Relief"
Normally when two spouses file a joint tax return, they both become 100% liable for the tax, even if one spouse earned all the income. As you might imagine, this can create sticky situations during divorces and separations. However, the law provides a narrow method of escape from this, known as "Innocent Spouse Relief."
Innocent Spouse Relief cases are difficult to win; the success rate on them is only about 28%. The government generally takes the position that a person who signs a tax return has agreed to pay the balance due. To win an Innocent Spouse Relief case, you usually have to show that there was some kind of under-reporting of income or false deduction that the innocent spouse didn't know about when the tax return was signed. While the tax authorities and the courts have discretion to grant relief in other situations where they feel holding the taxpayer liable would be unfair, they usually don't - and as a result, the typical Innocent Spouse Relief case is an exercise in the art of persuasion.
Jessica Lawn was an example of a case where I was able to successfully persuade the state of New York to cancel a tax bill on Innocent Spouse Relief grounds. So if you're wondering whether it's possible to actually win these cases, the answer is yes - yes it is. I think part of the reason Innocent Spouse Relief cases have such a low success rate is because divorcees aren't always the easiest people to deal with. (Jessica herself later demanded a full refund for "mishandling" the case because I wrote 2014 and 2015 on the papers when in fact the state had only sent a bill for 2015 at the time...)